Everyone is frustrated with the ever-increasing traffic congestion, especially the dwellers of metro cities in India. The increase in the number of vehicles has led to this problem, and the traffic congestion is worsening with each passing day. But thanks to the concept of shared mobility, we can smartly tackle the problem!
Carpooling and bike pooling has made commuting a lot easier in major Indian cities. Carpooling has become popular, especially in metro cities. But when it comes to bike pooling, not many are aware of the advantages of bike pooling. Yes, bike pooling is a concept which is slowly coming into the limelight with the traffic congestion getting worse in some of the metro cities.
For instance, Amit, who resides in Bangalore, travels 10km between home and office. It takes 45-60 minutes to reach his office in peak-hour traffic. But nowadays, Amit manages to reach his office in just 20-30 minutes! Wondering how is it possible? Amit bike pools to the office, and it has cut down his travel time and expenses. So, what is bike pooling? In this blog, we will answer all your questions related to bike pooling.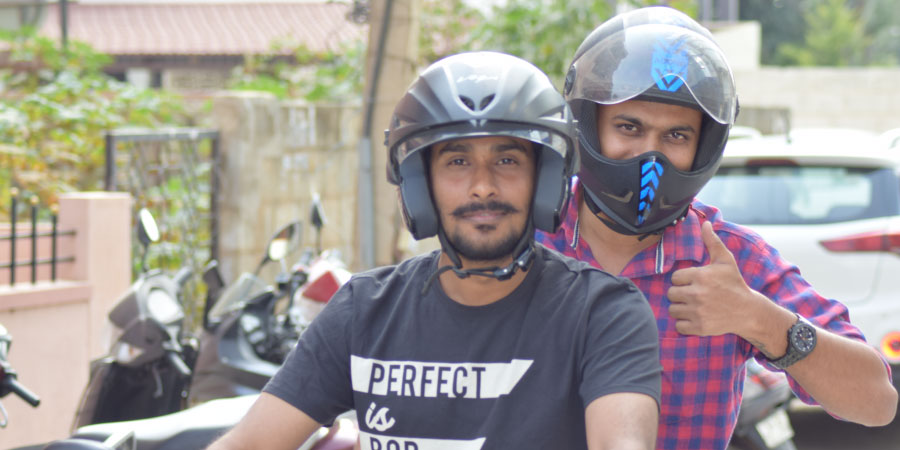 What is bike pooling?
The concept of bike pooling works the same way as carpooling, except for the fact that you share your ride with only one person. Bike pooling is more affordable as compared to carpooling, and the commute time also reduces as a two-wheeler can reach the destination faster than a car in the urban jungle. On Quick Ride, you can search for bike pool rides, and the entire process of offering or taking a bike pool ride is similar to carpooling.
Why you should bike pool?
In this digital era, nobody has time. Everyone's in a hurry to reach their destination, but the increasing traffic congestion has made commuting a tough task. Carpooling has come to the rescue, but it alone can't solve this problem. Bike pool is another by-product of shared-mobility, and it also plays a pivotal role in reducing traffic congestion.
In simple terms, compared to a four-wheeler., a two-wheeler can travel faster on the crowded city roads. So, if you opt for bike pooling, you can surely reach your destination faster when compared to carpooling. Bike pooling is very easy as it involves only two people; ride giver and ride taker, so picking up your rider is easy as you need to communicate with only one person. So, finding a rider is a lot easier.
Is bike pooling a faster way to commute?
The answer to this question is a big YES! We all know that the fastest way to commute in an urban jungle is through a two-wheeler. The advantage of a two-wheeler is that it can zip through traffic as it does not take much space on the road. So, bike pooling is a faster way to commute. Bike pooling will save you a lot of time and money, and it will also decongest the roads. Bike pooling will also help to prevent harmful carbon emissions, which is the need of the hour.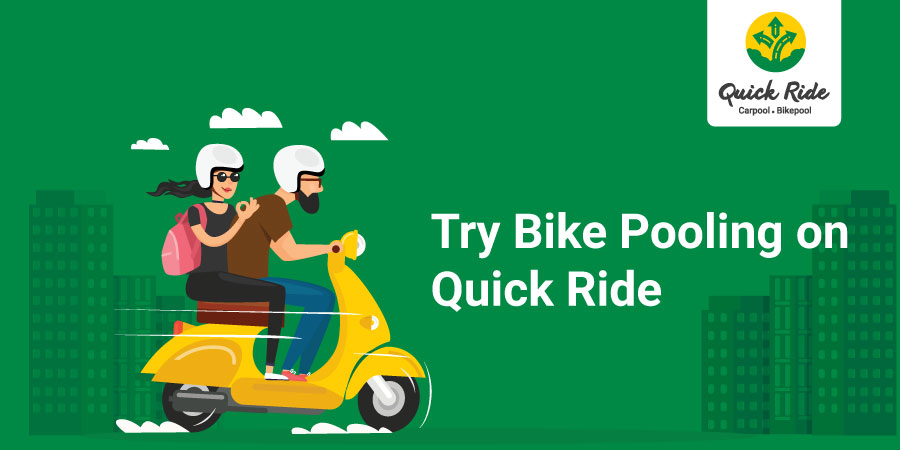 Bike pooling on Quick Ride
On the Quick Ride app, you can easily offer or take bike pool rides. On Quick Ride, you have full control over with whom you want to ride, and this feature comes in handy for female users. Bike pooling on Quick Ride is safe as you always travel with verified professionals. The advanced safety features on the Quick Ride app makes the overall bike pooling experience even better.
Now you know what bike pooling is and the benefits of bike pooling, you should give it a shot. So, the next time you commute, book a bike pool ride on the Quick Ride app and get first-hand experience of bike pooling. Do let us know your experience of bike pooling on Quick Ride. Your feedback will help us to make the Quick Ride app even better!
More such articles you may like to read :
Bike pool Vs Bike taxi — What is the difference?
How to verify Quick Ride profile?