You wake up in the morning, finish your morning rituals and get ready to go to work, cursing the traffic and this is how a typical morning of a working professional starts unless you are not working in any major cities of India. Everybody rants about the increasing traffic congestion in cities, but very few embrace the concept of shared mobility.
Shared mobility plays a pivotal role in reducing traffic congestion in major Indian cities. Shared mobility is nothing but sharing your private vehicle with other passengers. In simple terms, we call it as carpooling. Carpooling is a brilliant concept, and if adopted in the right way, it can do wonders in reducing the number of cars on the roads.

Carpooling has become increasingly popular in metro cities, and it not only helps in curbing down pollution, but it also makes daily commuting easy and economical. Carpooling is an amazing concept that brings down the number of cars on the roads. The new vehicle registration is increasing at a rapid rate, and it poses a huge challenge to cope up with already jam-packed roads.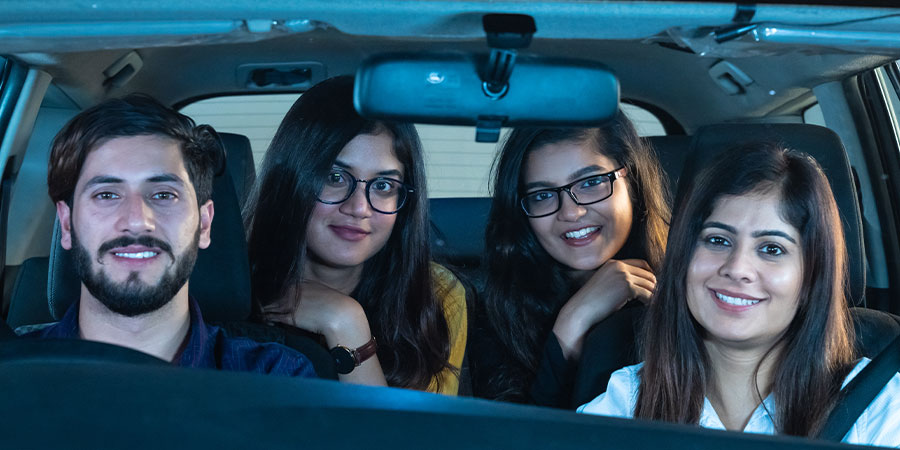 Why does carpooling exist?
The concept of carpooling came into existence with the sole purpose of reducing the number of cars on the roads. Less vehicles on the roads will, in turn, result in reduced traffic congestion and carbon emissions. Carpooling also became popular since it drastically reduces the cost of commuting. Apart from this, carpooling has a chain of advantages which we will focus in this blog.
What is carpooling?
In simple terms, carpooling is nothing but sharing your private car with other passengers. If four people drive four cars for commuting, why not four people travel in one car? Yes, this concept is called as carpooling. Ride sharing can be with your colleagues, friends or a stranger whom you meet through a carpooling app like Quick Ride. During carpooling, you share the fuel expenses with fellow passengers.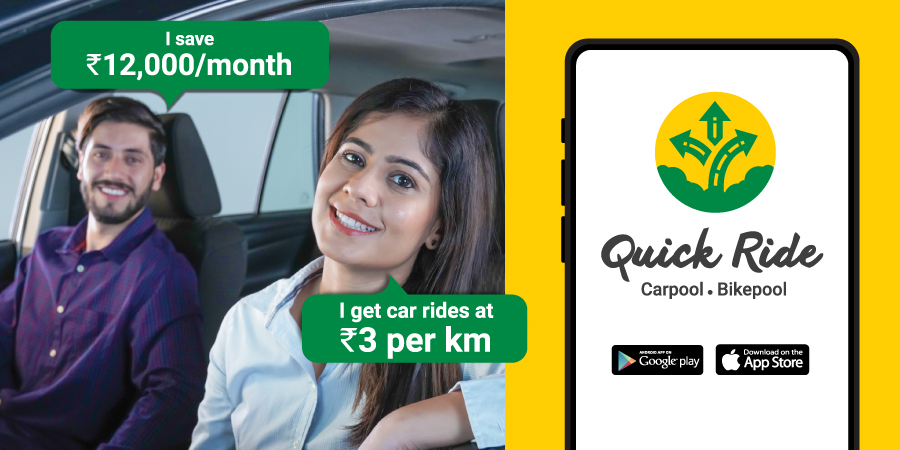 Is carpooling safe?
Yes, carpooling is completely safe. We at Quick Ride, make sure that you share your rides with verified professionals. Quick Ride authenticates the users against their government ID and also Professional Credential Verification through Company Domain Email ID. So, rest is assured, carpooling is safe as you share your rides with verified users/professionals. On top of that, Quick Ride app comes with advanced safety and security features which makes your commuting worry-free.
Why you should carpool?
As we mentioned above, carpooling is a brilliant concept, and it comes with a host of advantages. First and foremost, carpooling reduces your commuting cost drastically. As a car owner/ride giver, when you share your car with fellow passengers, you also share the fuel costs. So, by carpooling, you can cut down on your travel expenses, and this is an only one-dimensional advantage, and it is a much larger picture than what you see.
Yes, carpooling is way more than just saving money; it's about building a trusted network of users who are willing to opt for the concept of shared mobility. The stronger the network, the more the awareness about carpooling. Carpooling helps you to travel with like-minded people and expand your professional network.
As a ride taker/ride seeker, you will also cut down on your travel expenses and can commute with comfort as compared to public transport. You also save a lot of time by carpooling and remember that when you carpool, you take a car out of the road! On a broader perspective, imagine the effect of carpooling on the traffic. Fewer cars, less traffic and less traffic, means you can reach your destination faster.
Another critical factor of carpooling is the environment. Yes, carpooling does its part in reducing pollution, which is increasing at an alarming rate in some cities such as Delhi. Less cars on the roads mean less carbon emission, so when you carpool, you are also helping the cause to save the environment.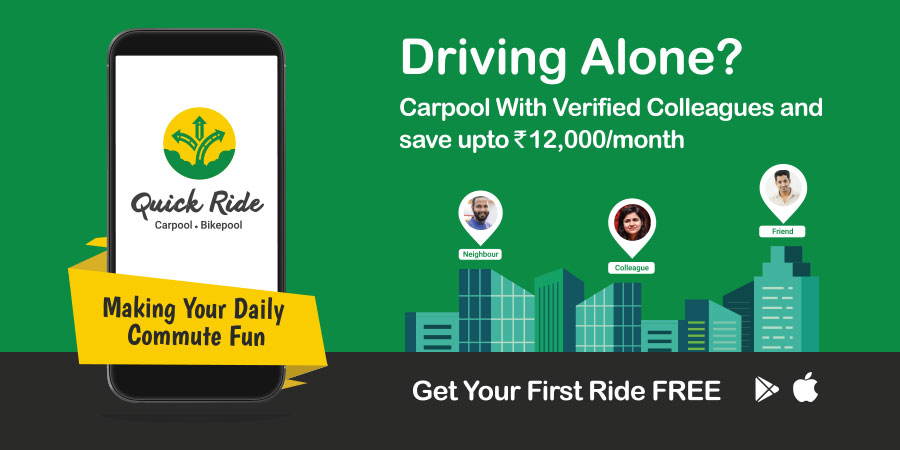 What are you losing if you don't carpool?
So, if you are still reading this and smart enough, you might have already figured out the answer to this question. Yet, for the uninitiated, we will explain the answer. If you're not carpooling, the first thing you lose out on is the savings. Yes, imagine how much you could cut down on your travel expenses if you carpool.
Time is money, and you're wasting that precious time in traffic. If you carpool, apart from saving money, you will also save time and time is equal to money! When you are not carpooling, you drive alone, which is a boring task, especially if there is bumper-to-bumper traffic. So, by not opting to carpool, you are losing on the network you could have developed by sharing your car with other passengers.
For ride-takers, if you are not carpooling, you can't make the most of your commuting time. Yes, if you carpool, you can make use of the commuting time for some productive work as you are sitting in the comfort of a car seat.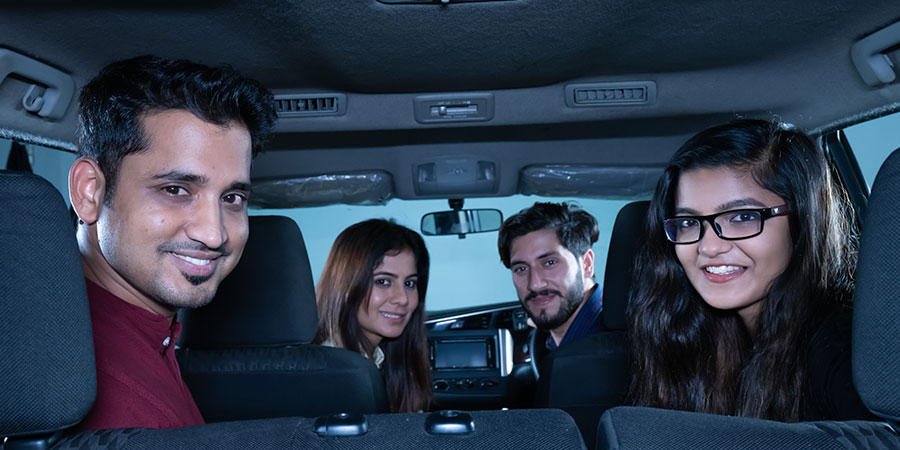 In a nutshell
Now you are aware of all the aspects of carpooling; we hope that this blog will encourage you to carpool. We understand that carpooling is a bit complicated term in India, but Quick Ride has made carpooling simple, fast, secure and cashless. With verified users, you can give or take rides on Quick Ride, and your daily commute will never be the same. The most significant advantage of carpooling on Quick Ride is comfortable commutes at bus fares.
So, If you are looking for an alternative option to commute, then carpooling is a fitting solution for you By carpooling you can save fuel and money Apart from saving money, you can also make acquaintances on the go and develop an excellent professional network. So, do give carpooling a shot, and you will be amazed to find out how convenient it is to carpool. Quick Ride will further make your carpooling experience better, with advanced and convenient features.
More such articles you may like to read
Quick Ride Introduces Number Masking Safety Feature
How to make UPI Payments on Quick Ride?