We are a carpool and bike pool company which means Quick Ride is well acquainted with routes. But when it comes to finding the best route we know our users know the best. After all, we might give you the quick route but is it best for you? And, carpool and bike pool is all about sharing routes. So, while we might be well aware of taking you to your destination through more than one route, we also know that sometimes only user knows what's best for him/her. That is why Quick Ride offers 'Route Customization'.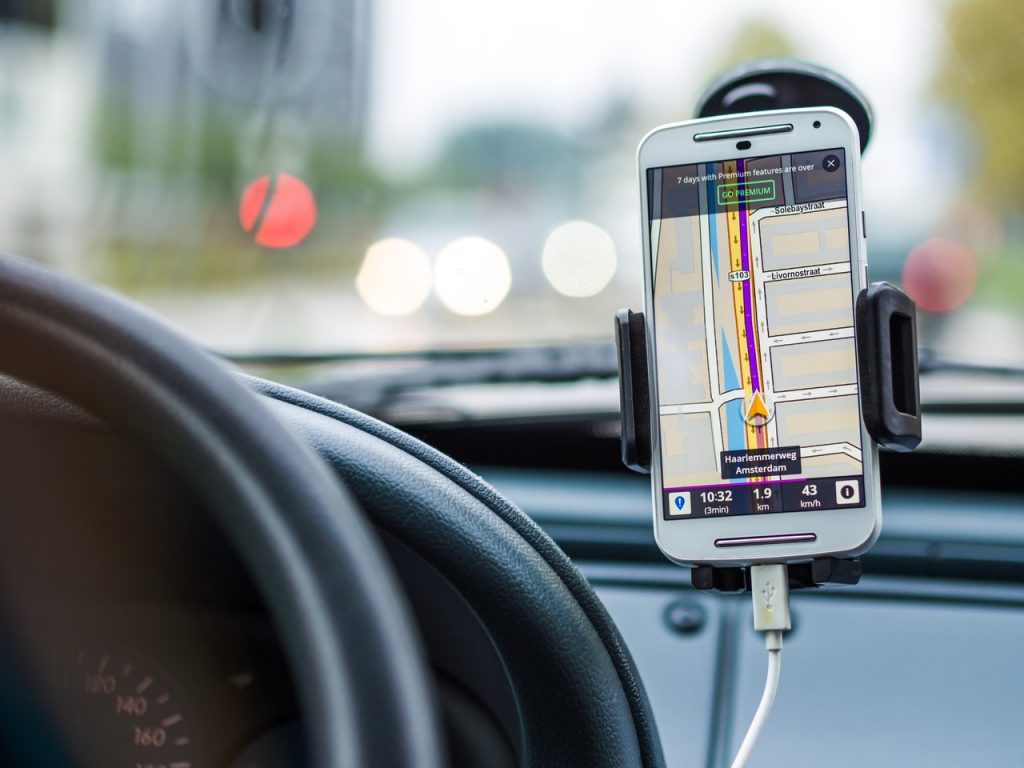 Why Route Customization?
It always takes a little while to get a hang of things and once you acquaint yourself with this change you then take the next step- hacks to make doing new things more comfortable and easier. For example, most of our users in their initial days of Quick Riding did not realize that we provide a default route once you enter the 'From' and 'To' destination. This is where things get complex. As default route not only gives you route details but will also provide you with the best matches i.e., riders looking for a ride on that route.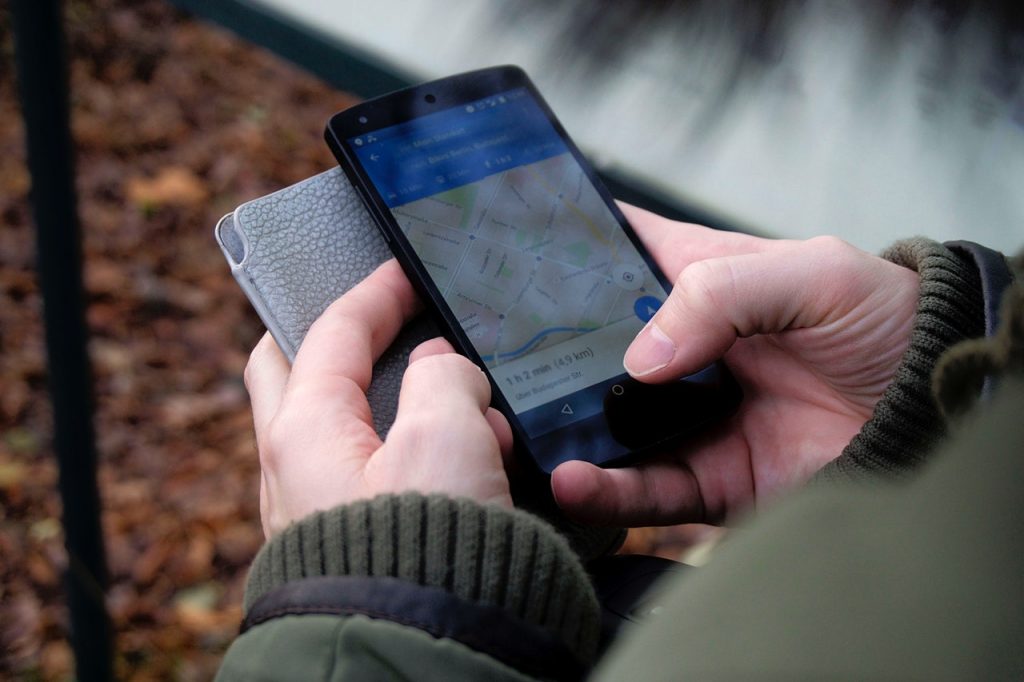 So, once the user gets acquainted with the default route he now understands the intricacies. Is he getting riders on the route? Does this route help him save time? Is he getting the best matches on this route? Should he look for other routes that can promise him with better matches? This is where route customization comes to rescue.
You can customize your route to check the availability of the riders on the route. Depending upon the unpredictable traffic scenes, you can continue carpooling and still reach on time by tweaking your route.
Customize your Route at any of these Stages
You've posted a ride on Quick Ride and are now caught up in completing your morning chores. What is your usual route is blocked or has an overload of traffic due to any uncontrollable issue? What do you do now? That is why we allow our users to customize route before posting a ride, after posting a ride and even for your Scheduled Rides.
The process to customize your route is the same whether you decide to tweak the route before or after posting the ride. However, the options to reach route customization might differ. So, here, is a short guide on how you can reach route customization at your preferred stage of ride creation.
You can find the 'Edit' option on the right side just above the ride requirement column
Even after posting a ride, you can still edit the route. Click on 'Edit' from the top-right menu. Select 'Edit Route' from the drop-down menu.
To edit route for the scheduled ride, click on 'My Rides' by visiting your profile. Here, you can see your scheduled ride under 'Upcoming'. Select your scheduled ride and choose 'Edit' from the menu on the right. Select 'Edit Route' from the drop-down menu.
How to customize your route settings on Quick Ride?
Need to reach office through a route that assures moving traffic? We got you!
Route customization enables our ride taker and ride giver to select and cruise through their desired route. Since carpool and bike pool is all about sharing the route and since Quick Ride does not own the inventory, route customization enables Quick Ride to exercise better control over the rides shared.
As with this feature, the ride giver can select the route that promises them with the availability of ride takers on the selected route and vice versa.
Let's see an illustrated example of how you can customize the route on Quick Ride. Say, you're a Ride giver who has posted a ride on the Quick Ride app.
From: iDisha Info Labs Pvt. Ltd
To: CS-HSR BDA Complex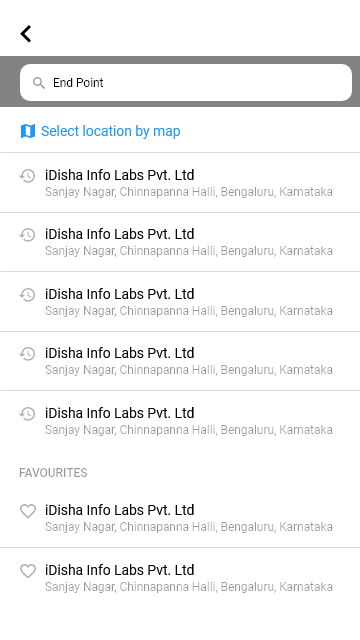 Once you have posted the ride, Quick Ride app will show you the default route for the pick-up and drop locations. Now let's assume that you have been traveling through this route for a while and understand the peak time, traffic status, riders availability quite well. And, so wish to change the route by adding 'Via Points'. Via points refer to locations (which can become landmarks on the route) that you want to pass-through en-route to your drop point. They help you customize the route perfectly by already defining your via points on the map.
As we have already stated, no matter which stage, you can edit your route as per your convenience.
Select 'Edit Route' on your preferred stage of ride creation.
Once you have selected the Edit option, you will then get the functionality to '+ Add via Point'.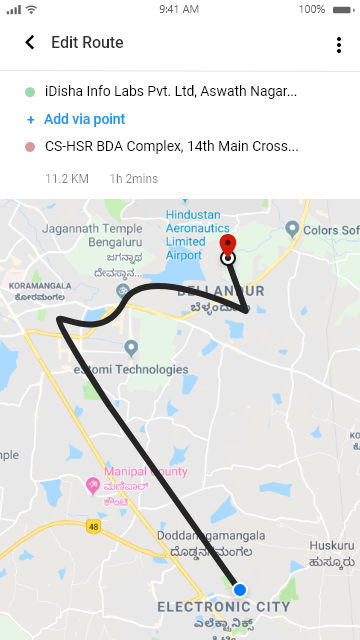 Once you've manually added the via points, the next pop-up will take you to the map. Here, you can select your landmark/via point precisely.

If the via point is a few meters away from the main road. Selecting the via point on the map will help you to precisely point out and select that particular location on the map.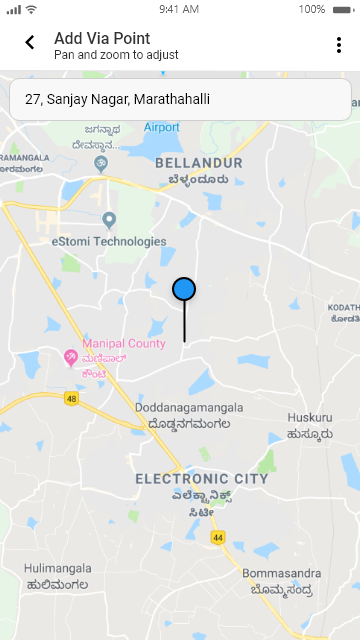 You can add multiple via points which will help you select the route of your choice. Make sure to add the via points in chronological order to help the app recognize the shorter route.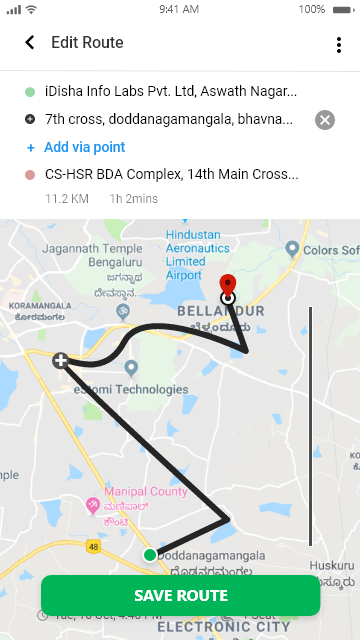 'Confirm Point' on the map once you've selected your via point.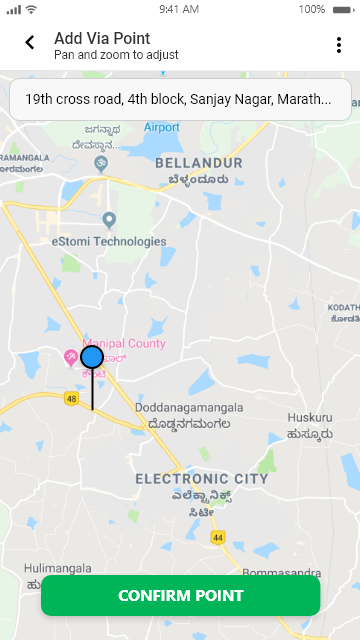 Define 'Route Name' for your customized route. This will help you save time in selecting your customized route for all future rides.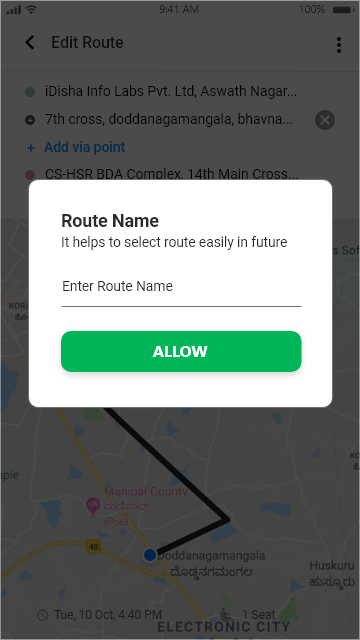 How to Delete Via Points from your Customised Routes
Just how easily and quickly you can add via points, you can delete them too. Why we provide our users with in-depth functionality? Since this is a carpool and bike pool service, we understand that our users are the owner of their journey and would not want to accommodate the default settings.
So depending upon your requirement, you can easily add, delete via points for desirable route customization. Let's see how easily you delete via points:
Post a ride on the app
Select your customized route (As per the name you have given)
Choose 'Edit' from the menu on the right. Select 'Edit Route' from the drop-down menu.
The list will display all your added via points. You can Delete the via Points from the drop-down menu.
Once you're satisfied with the route and the via points, save the route with the same or a new name.
Route customization is a great feature provided by the Quick Ride app and is perfect for carpool and bike pool. As depending upon the time on your hand, traffic status and rider availability you can easily tweak your route.
More such articles you may like to read :

Quick Ride Introduces Number Masking Safety Feature
How to make UPI Payments on Quick Ride?