Carpooling has emerged as one of the fitting solutions for the rapidly increasing traffic congestion in India's major cities. Carpooling not only helps in reducing the number of vehicles on the roads, but it also plays its part in reducing the carbon emission.
Generally, when we say carpooling, the first thing that comes to our mind is daily commutes. Yes, carpooling is mainly used for daily office commutes, but intercity carpooling is also getting popular due to its advantages.

Usually, we use carpooling on weekdays to commute to our desired location within the city limits. But what about weekends? What if you want to travel to your hometown or visit a friend residing in a different city? Don't you worry! Because Quick Ride has got you covered for your intercity/outstation travel needs. Intercity carpool comes with its own set of advantages, and this is the reason behind more and more users posting and requesting intercity rides on Quick Ride.

Intercity carpooling makes your intercity/interstate travel easy, convenient and economical. Outstation carpooling is inexpensive as compared to other public transport. Moreover, you get to travel comfortably, and you will enjoy the ride. Booking an intercity carpool ride on Quick Ride is super easy and so is the cancellation, if you can't travel due to unavoidable circumstances.

Currently, there are fewer platforms to post or hitch an intercity carpool ride. Quick Ride, India's largest carpooling app allows users to post and request intercity rides. In this blog, we will explain to you how your intercity carpool on Quick Ride will be different as compared to other platforms such as BlaBlaCar.
Ease of use
Posting or requesting an intercity ride on Quick Ride is very simple and you can also choose various parameters such as route, with whom you want to ride and much more. Just enter the starting point, and destination and Quick Ride's intelligent route matching algorithm will take care of the rest. Quick Ride's unique features make its a better platform for intercity carpooling as compared to other apps.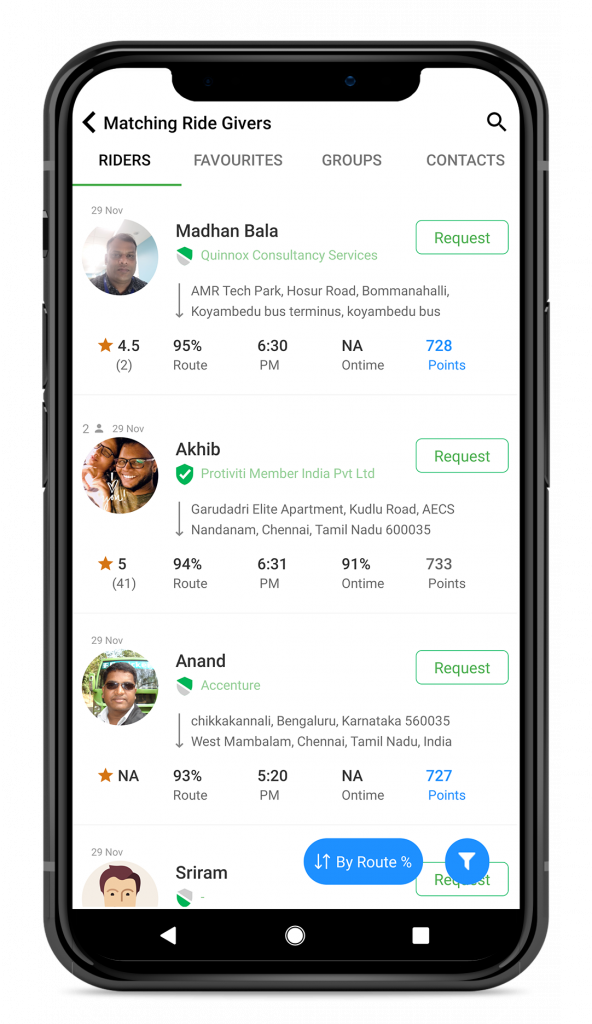 Verified users
Verifying users based on government ID is very common. We at Quick Ride have gone a step ahead, and we run a Professional Credentials Verification through Company Domain Email ID. It will make sure that you are travelling with like-minded people and your co-traveler belongs to a legit professional network. You have also got the option of accepting rides from only verified users to avoid any hassles.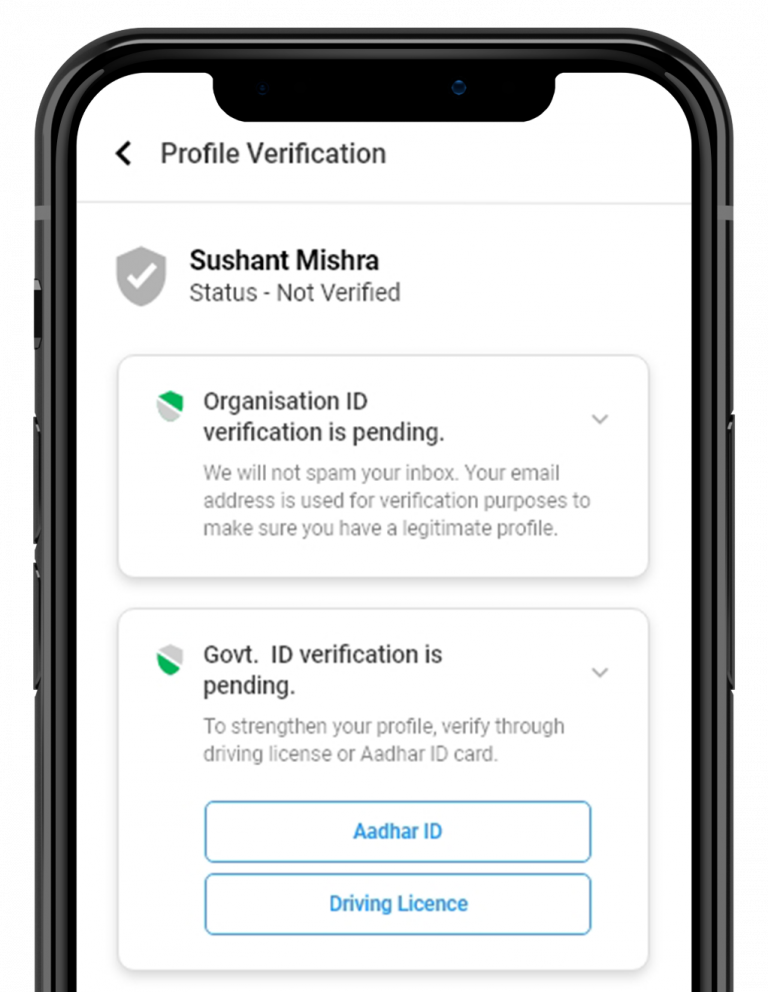 Quick Ride also offers gender-specific ride-sharing option. So, a female ride giver/ride taker can opt to travel with fellow female travelers. Further, you can also filter the ride matches from the same company you work. And lastly, you can choose your ride based on the user's rating. All these features will ensure your intercity/interstate travel is safe.
Efficient communication
Now, that you have booked/confirmed the ride, the next important aspect in outstation carpooling is communicating with your fellow riders. Unlike any other apps, Quick Ride gives you full control, you can choose who can call you and at what stage. And if you're calling your fellow riders, Quick Ride's number masking system will hide your number for safety reasons. You can also restrict chat/call from unverified users.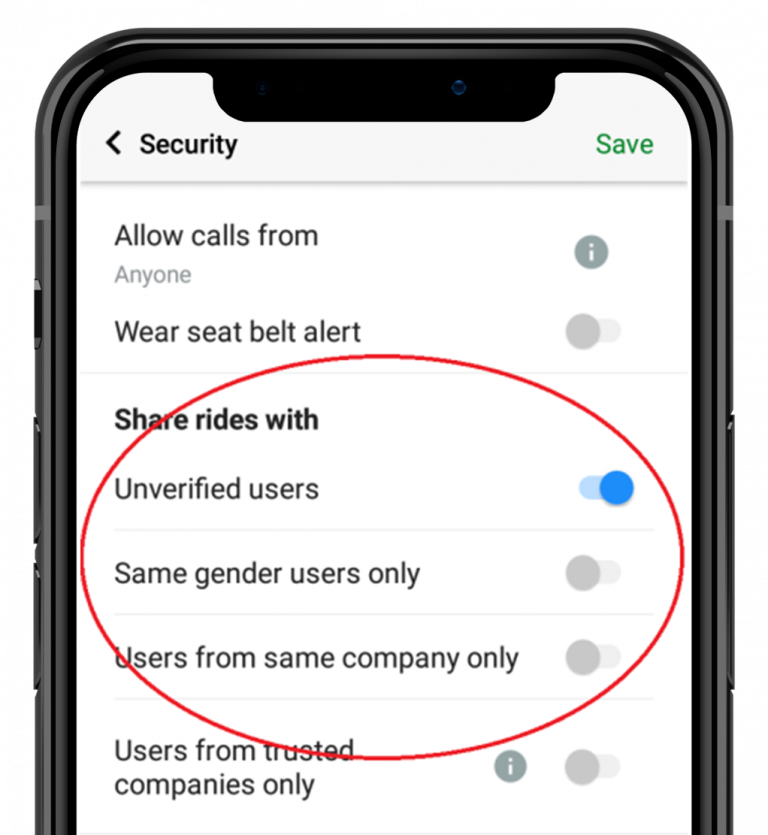 Safe and secure
When it comes to intercity carpooling, security is paramount. But worry not, Quick Ride offers a host of safety features, for a worry-free ride. Quick Ride app comes with a panic/emergency button which sends an alert to your emergency contact during the journey. You can also share your ride path with your loved ones so they can track your ride location remotely. Quick Ride app will also send an emergency alert to your emergency contact if there is a deviation in the route. All these advanced safety features make Quick Ride safe as compared to other carpooling platforms.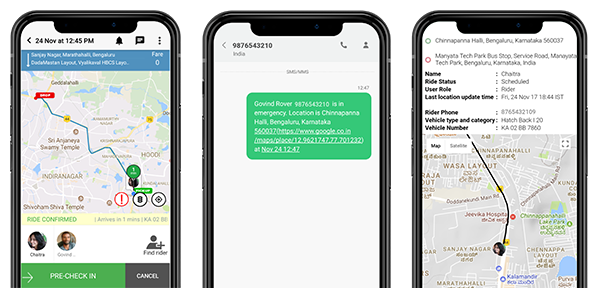 Flexible pricing
When it comes to intercity carpooling, it all boils down to the pricing. When posting an intercity ride on Quick Ride, the app suggests an optimum price for the route which depends on the distance. Further, the ride giver can increase or decrease the fare if the suggested price is not suitable for the route. Similarly, ride taker can also propose the price and negotiate, if the ride taker is not satisfied with the ride giver's posted fare. But Quick Ride suggests a reasonable base price and the more the distance, the lesser the base price per kilometre. Overall, both the ride giver and ride taker have the flexibility to set/propose their fares.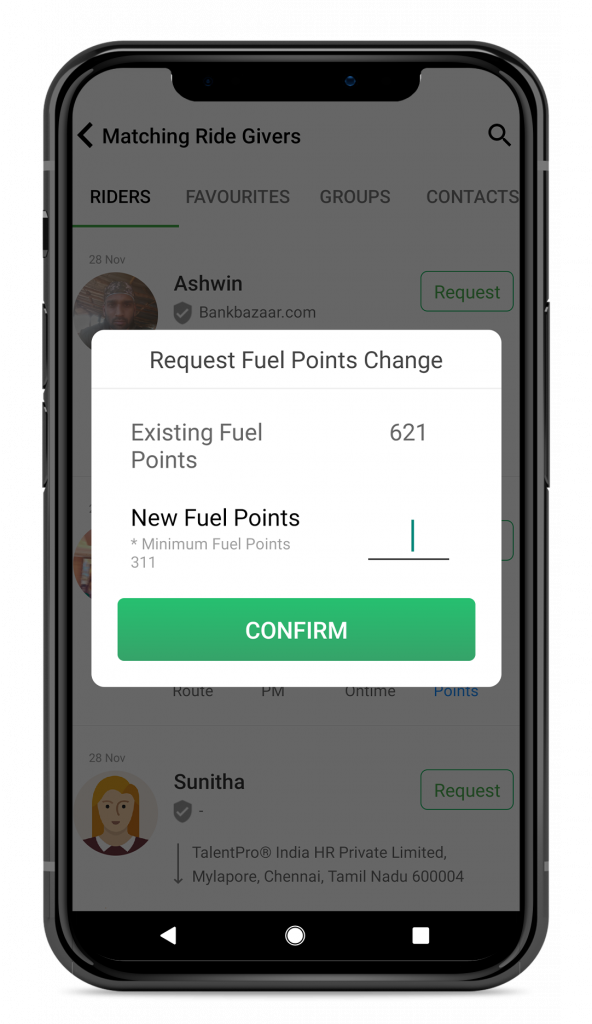 But on other ride-sharing platforms such as BlaBlaCar, the pricing is fixed and non-negotiable. For instance, on BlaBlaCar, the app suggests an estimated price for the route and the ride giver can increase the fare by 10 percent and decrease by 50 percent. The ride taker has no control over the pricing and has to pay whatever price is set by the ride giver, and it could be a significant disadvantage for ride takers.
Cashless payment
After you complete the outstation carpool journey, the last hurdle is to complete the payment or receive payment in case you are a ride giver. Most of the apps, like BlaBlaCar, allows the users to only pay through cash, and it can be irritating. But Quick Ride makes it simple as the payment is cashless, and it works on a point system. Every point is equal to a rupee, and the user can load points through various online payment options. Everything happens on the app, and there is no need to deal with cash or payments outside the app. Cool, isn't it?
Popular intercity carpooling routes & fares
With the intercity/interstate carpooling getting popular, on Quick Ride, some routes are being frequently used and those routes are popular among the users. We list the popular routes and fares. Do note that the fares are in points and 1 point is equal to 1 rupee.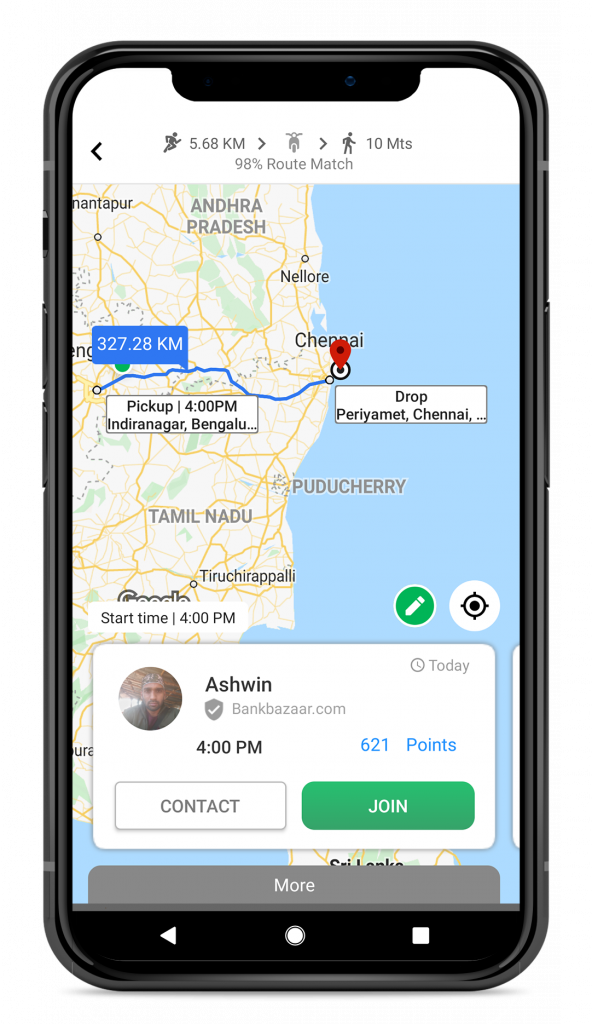 | | |
| --- | --- |
| Intercity Route | Fare |
| Bengaluru > Mysore | 240 |
| Bengaluru > Chennai | 430 |
| Bengaluru > Coimbatore | 440 |
| Bengaluru > Hyderabad | 520 |
| | |
| --- | --- |
| Chennai > Bengaluru | 360 |
| Chennai > Coimbatore | 480 |
| Chennai > Madurai | 450 |
| Chennai > Salem | 370 |
| Chennai > Pondicherry | 150 |
| | |
| --- | --- |
| Hyderabad > Vijayawada | 320 |
| Hyderabad > Warangal | 150 |
| Hyderabad > Karimnagr | 250 |
| Hyderabad > Nizamabad | 230 |
| | |
| --- | --- |
| Kochi > Trivandrum | 250 |
| Kochi > Thrissur | 200 |
| Kochi > Palghat | 260 |
| Kochi > Kozhikode | 310 |
| Kochi > Malappuram | 290 |
So, now that we have made it crystal clear how your intercity carpooling experience on Quick Ride will be better than other apps like BlaBlaCar, we hope you make use of this ride-sharing mode. Outstation carpooling is convenient, simple, and economical. Moreover, you can also save a lot of time by opting for Quick Ride intercity carpooling.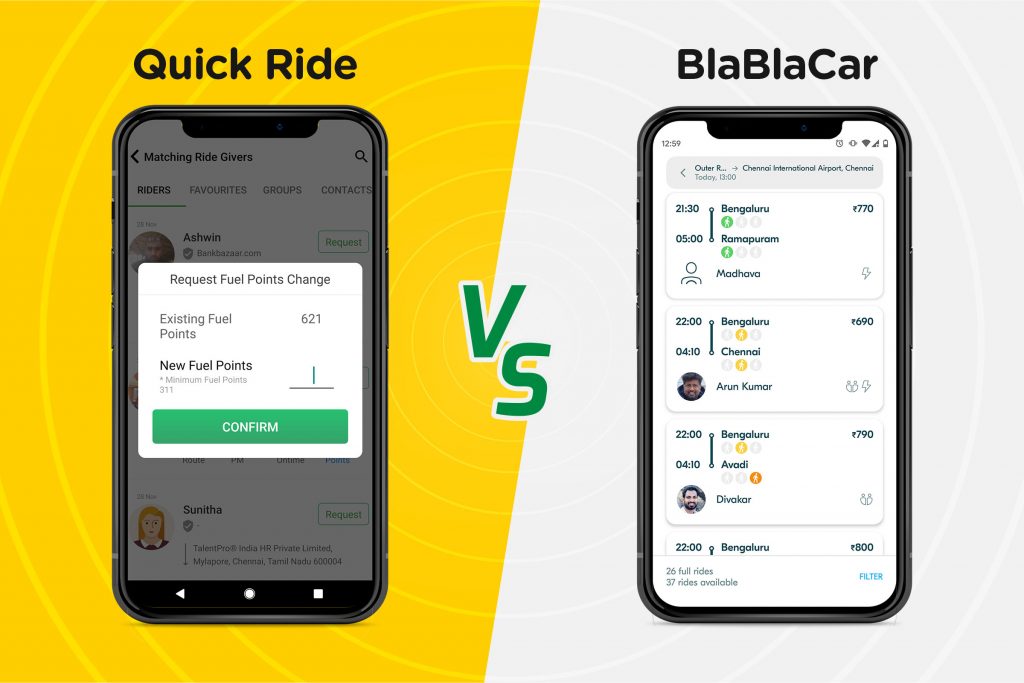 Intercity/outstation carpooling not only saves time and money, but it also does its bit to reduce the carbon emission. Quick Ride will make the whole experience of intercity carpooling even better with its advanced features and cashless payment mechanism. So, what are you worried about, try intercity carpooling on Quick Ride when you're traveling next time and let us know your experience!
More such articles you may like to read :
Quick Ride Introduces Number Masking Safety Feature
How to make UPI Payments on Quick Ride?