As an Indian Citizen, What comes to your mind when you think about the Republic Day? Is it all about watching the parade by the Indian Army or watching some movies to evoke patriotism in you? But have you ever thought about how actively you are trying to contribute to making India a better place to live? Let's pledge to bring some positive changes ahead of the 71st Republic Day celebration.

Little changes can make a huge impact on society. You can join Quick Ride's campaign to make the country pollution free to bring about some positivity. Remember, it all starts with YOU.

Be a green soldier on this Republic Day
The present environmental condition of India is kind of horrifying. Being a responsible citizen of the Republic of India, you can be one of those pioneers who are trying to bring a change in society. The first step can be taken in this Republic Day by pledging to be a Green Soldier to save the environment.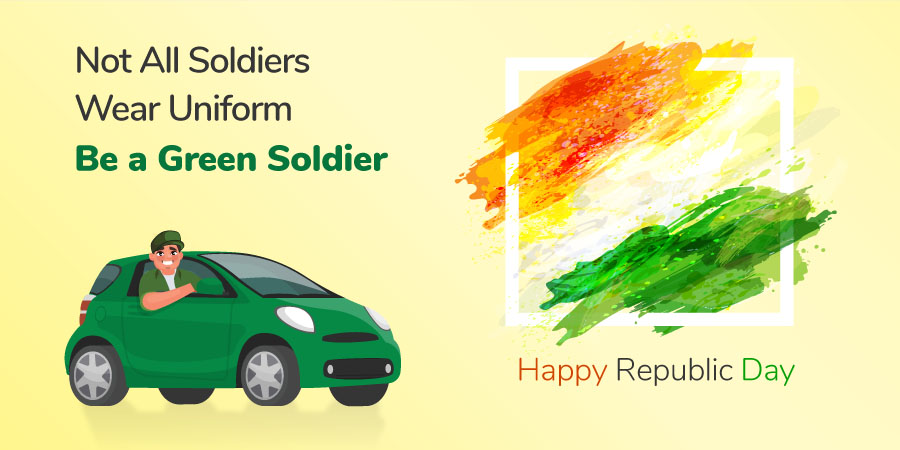 What can be a better alternative than ride-sharing for this purpose? Ride-sharing or carpooling is very effective to keep the environment green. Carpooling helps to decrease the number of personal vehicles on the road which means the amount of carbon emission will automatically curb down.

During the flag hoisting ceremony in your apartment, you can introduce Quick Ride app to your neighbours, friends and colleagues and encourage them to carpool. Explain to them how this ride-sharing or carpooling can be the best option for eco-friendly travelling.

Do not forget to share those pictures on your social media channels by tagging Quick Ride.
Some special offers to make the carpooling experience better
Quick Ride has crafted some special offers to make this event better and remarkable. Generally, Quick Ride charges 6% service fee per ride. On this Republic Day, you can carpool at 0% service fee. This offer will be valid until the 28th of January, 2020.

No one carpools alone, so you can refer to your friends, family, colleagues. Get 100 points on each referral. This is not the end of surprise as your referrals are also going to get 100 fuel points just for being referred by you on that particular day.

So, gear up for the upcoming Republic Day celebration on 26th of January, 2020. Do not forget to click pictures and share it on your social media channels by tagging Quick Ride.
This is the high time to care for mother nature by pledging to create a sustainable society. What can be a better alternative than carpooling to make this world greener and smarter?

Come on India! Switch to carpool this Republic Day!
Jai Hind!

More such articles you may like to read :
How Carpooling helps in saving energy?
Air Pollution – What you need to know!