How many of you had the privilege of being the referred one for your dream job ? Everyone enjoys a little privilege which is put to good cause. 
Recently we ran a poll on LinkedIn asking our followers on their take on the "Best way to get into your dream job". More than 90% of the people have voted for "Employee Referral".
Well that's the power of referral. We have realized it, you have realized it, then why not help yourself in getting into your dream job/ or hiring the best talent via employee referral?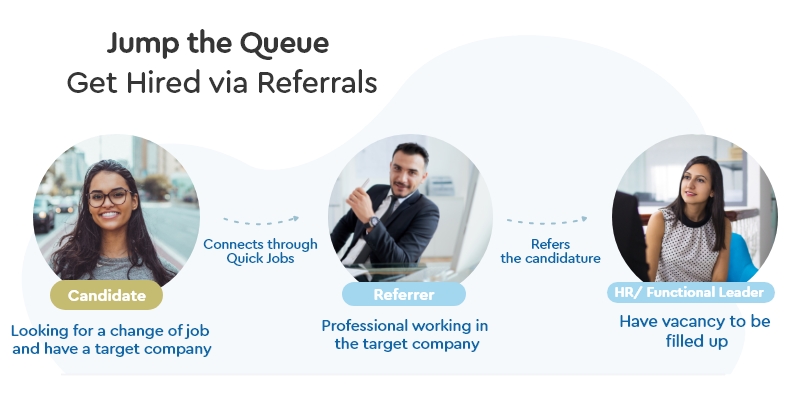 Quick Jobs have won million hearts by this time because of we are more than glad to be your wingman in your career ladder.
So, let us get into some insights!!
What is Employee Referral?
As per dictionary definition "An employee referral program is a recruitment method designed to allow employees to be involved in their company's recruiting process. The idea revolves around employees sharing their company's job vacancies in their own networks and providing recommendations for candidates. It helps company recruiters to save time and resources in the entire process ."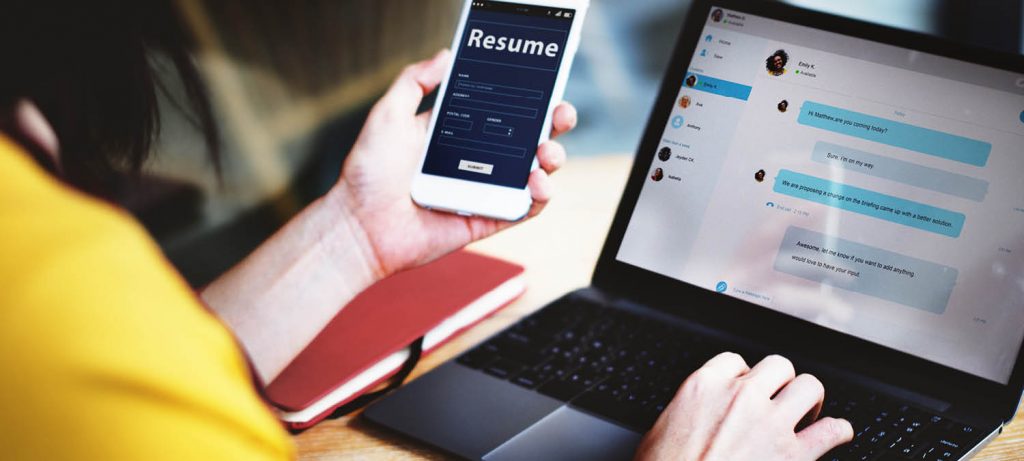 How do employee referrals increase your odds of getting hired?
According to experts, employee referrals can increase your chances of getting hired by 10X . Referrals will help the job seekers in getting noticed at their target companies and they act as an internal endorsement of a candidate and their skill.
Mr. Andrew Seaman an editor at LinkedIn News has put forth insights on how to reach out to potential employees and makes them their advocates for your skillset and candidature
Networking is the key!!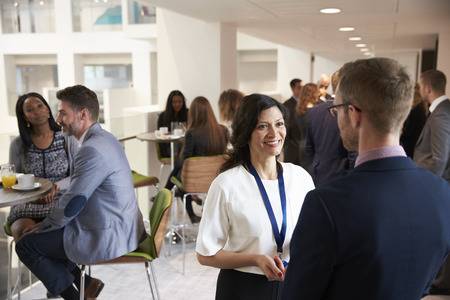 Networking is the key- Be it on professional Networking platform or on Ride sharing platforms. Already a Quick Rider? You have already scored 100/100 on networking
Find connections at your target company .
Continue building relationships at your target company.
Be strategic when asking for referral.
Quick Jobs platform will help you to easily target the desired company and help you find the relevant connections in the company. Employee referrals are the proverbial golden tickets of the job seeking game. And the real game is , How well you can connect with prospective employees ? Have you made the smart choice of Quick Jobs? With Quick Jobs asking for a referral is as easy as a "tap on the button"
Let's expedite on how employee referrals benefit potential candidates.

Resumes getting lost in online job platforms
An adage of job hunting is that a major percentage of job seeking individuals will get tired in the midway of not getting a call back from HR s or their resumes getting lost in various job platforms. Quick Jobs is the quick ray of hope to such individuals. Quick Jobs is essentially a niche employee referral platform solidly curated for job seekers trying to land on their dream job. Promised call backs from HRs and crystal cut tracking process of application always makes us the unicorn in the online job searching platforms.
Getting lost in "Phantom jobs" posted by companies
It costs nothing to post job openings on a company website, which are then scooped up by many online job platforms and being pushed out to the potential job seekers. And it comes to surprise that many of such jobs don't really exist. Often job ads stay up even after the positions have been filled; sometimes ads are posted by unscrupulous recruiters looking for resumes to pitch to clients elsewhere. Because phantom jobs make the labor market look tighter than it really is.
So the actual question is how do you help yourself from not falling in this loop?
How Employee Referral solve the problem?
Getting to know about a job opening from the company from someone working in the same organization can boost the credibility of the job opening. Phantom jobs are not the cakes we bake in Quick Jobs. Request for referral requests and get into your dream jobs with Quick Jobs
Employee referral accentuates your understanding of a particular company and its company culture much more than you doing a virtual study on a company and getting lost on "online reviews". Getting to know about the company and its culture will help a potential candidate to decide whether she/he will be suiting for the particular profile. "Cultural fit" is always a two way street.
Time and Tide waits for No Man
Time is precious so do your efforts! Employee referral will help potential candidates in saving time by easing their whole hiring process. Being re-directed by many online job platforms and finally landing on an interview is always a tedious process. Everything happens in a quick seconds in Quick Jobs. Potential candidates can post a referral request in the platforms; Employees of your target companies will accept your requests and BOOOM!! You are on your interview chair.

Now let us evaluate the potential benefits of Employee Referral programs and its impact on organizations.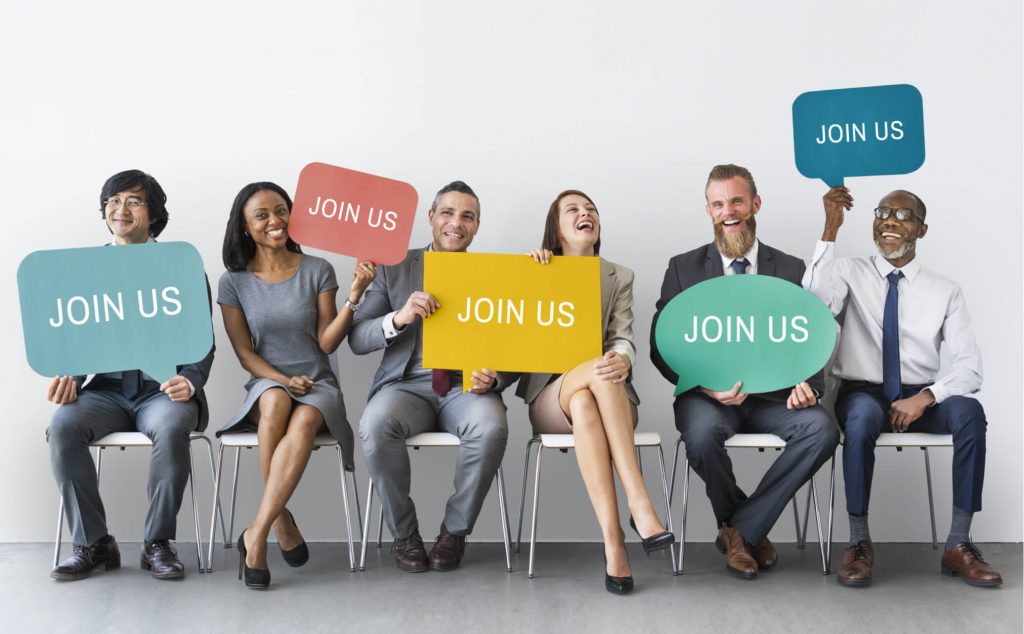 Enormous saving on time and cost on hiring process
Sourcing the right candidates for a role requires a lot of time and effort on employer's side. Employee referral can highly contribute to minimize time and efforts on the initial process of talent acquisition. A study conducted by The HRT Features Desk comments that referred candidates are 55% faster to hire, compared with employees sourced through career sites. As there exists a connection between the current employee and the referred candidate, it is much easier to communicate on the organization culture, policies and thereby easing the process of analyzing how fit the candidates are to the open positions.
Sourcing of Quality candidature for the profiles
According to experts, nearly three in ten employers have caught a fake reference on an application. So a personal recommendation that is already within the company can instill confidence that the reference is in fact valid and reputable. Employers and the hiring managers can have their confidence in the candidate's ability to perform and align towards the company's culture and policies.
Reconsidering the focus on Passive candidates
Employee referral contributes a greater share in reaching out to the passive candidates, who will not be actively searching for jobs, but inclined to join when the right position and roles in a desired company comes along.
High Retention Rate of sourced candidates
According to recent studies, retention of referred employees is 45% higher as compared to 20% from job portals. Chances are there that when employees are referring to their friends or family, they are referring to people that can carry the qualities needed to be successful within the organization. Employee referral highly contributes in building employee brand and thus improving their mentality of staying longer at the organization.
Best Cultural fit for the organization
Referrals will be a best cultural fit for the organization as they are pre-vetted by people familiar with how the organization works. Cultural fit always comes top on the checklist curated by Talent acquisition managers. Candidates with high cultural fit tend to stay longer in an organization as their ideologies and attitudes will be highly aligned to the organization culture.

So, What are you waiting for ?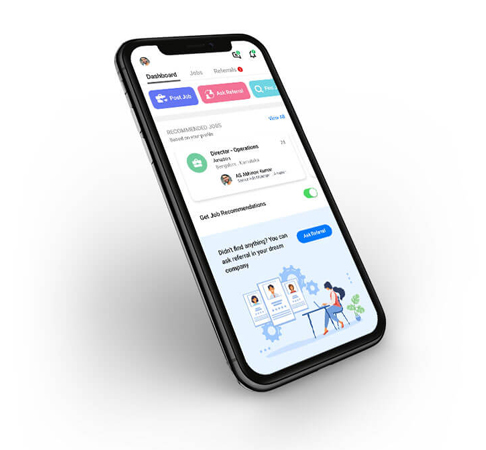 Get on board with Quick Jobs to land on your dream job.
Earn boss appreciation and referral rewards for the priceless referrals you have given.
Get the best fit for your team , well who doesn't like some good quality hiring?
Get on board https://quickjobs.works/
Much more articles you like to read!!