India's largest carpooling platform Quick Ride, is now providing Taxi services for Outstation trips. Quick Ride has been one of the most loved platform for many, as it is easy to find safe and comfortable car rides at very affordable fares at your convenience.
Even for outstation (Inter city & Inter state) travels, Quick Ride keeps the same principles intact.Quick Ride can provide a Taxi for one way drop or a multi-day round trip as well.

What is Quick Ride outstation Cab service?

Now users can book Quick Ride for their outstation trips. Quick Ride offers premium sanitised vehicles to meet the COVID precautionary government requirements under the guidance of professional drivers. Users would be able to pre book or instantly book their outstation trips in the Quick Ride app by giving "from" and "to" destinations. An approximate fare( inclusion and exclusion charges) will be calculated while booking the trip . which would make it convenient for the users . It's as simple as that. Book your outstation rides with Quick Ride and enjoy pocket friendly safe rides to your favourite destinations.
How is the Quick Ride outstation Cab service different from other operators ?

The cab fares from Quick Ride is assured to be at least 5-10% lower than other Taxi operators. Infact, this is not just for base fare but also for all additional charges such as Driver allowance, Night allowance, etc.,

Quick Ride = pocket friendly commute

Transparency is what we believe in. The Quick Ride billing will be transparent with upfront clarity on what is included and what is excluded. All toll, state taxes are charged on actuals. But why choose Quick ride as your friendly neighbourhood ride option? We have an answer to this in 1 word for you. "Transparency".
Better quality vehicle and Driver
The vehicles from Quick Ride will be better quality as we use only recent year purchased vehicles. The drivers are carefully chosen from the experienced lot. Users would be able to choose the vehicle of their comfort from the range of premium quality vehicles like Sedan, SUV, SUV Luxury for a comfortable and convenient outstation trip. Quick Ride outstation cab services promise you with high quality top model vehicles to ensure your comfort and convenience.
Safety on Outstation Trip
Your safety is important to us . Quick Ride guarantees highest safety and cleanliness protocols. Fumigation of cars every 48 hrs and sanitisation of high- contact surfaces after every ride to make your trip safe and pleasant.

Friendly customer service
We are available 24*7 to make your outstation travel service smooth and to delight you as our customer. You can feel free to contact anytime from the app.
Driver gets more Net Take home
Support is all we offer, As compared to other players in the industry, Quick Ride driver gets higher take home because we take only 9 % of the commission where in other operator commission hikes upto 20%.
So let's talk some numbers here !!
What are the different charges involved in an Outstation trip ?
Usually, the final bill of an outstation trip is typically quite tricky and often a shock / surprise to many. Quick Ride wants to change this phenomenon and want to make it everything clear upfront, transparent and ensure no surprise at the end. Users can verify the inclusion and exclusion charges on the "Ride View" feature of the trip. These charges vary based on the trip and routes.


The Fare includes :
a) Base distance Fare for Min. km required (Min. 250km per day)
b) Additional Distance based Per km Fare
c) Toll Charges on actual
d) State Taxes if it involves across states on actuals
e) Driver per day allowance
f) Night driving allowance
g) Parking charges on actual if incurred
h) GST – 5%
Users would be able to get an estimate of the ride fare while booking their ride with Quick Ride. Users have the leverage of multiple options for payment. Depending on the convenience and comfort of the user, the user can select multiple options for payment.
Quick Ride supports
Paytm
Amazon Pay
Mobikwik
Freecharge
PhonePe
Google Pay
UPI
LazyPay
Simpl
How does Cancellation policy works on Quick Ride?
Many times , our plans can ditch us. Don't they? Well, it happens to the best of us. Quick Ride has come up with a cancellation policy which will give a win-win situation for both drivers and users. User can go to Ride view and choose the Cancel option and reason for cancellation. Cancellation charges depends on the time of the cancellation and whether any inconvenience caused to the driver partners or not.
The cancellation fee will be given to the driver as compensation. For instance, If the driver accepts a trip and cancels after the delay, the customer is paid with compensation for inconvenience by Quick Ride. The number of times such compensation is paid is limited for each customer.
For detailed information : https://quickride.in/quick_ride_taxi_help.php

Quick Ride has hailed their presence across pan India and our outstation cab service supports booking to and from most of the Tier-1, Tier-2 and Tier cities. It covers almost 5000+ cities across India.
Here's what our users say about us,



Should you have any more clarifications, please feel free to reach us on : support@quickride.in /  08039515455
Well, Let's get into the core !!
How do I book an Outstation Cab from Quick Ride ?
It's as simple as a tap of a click !!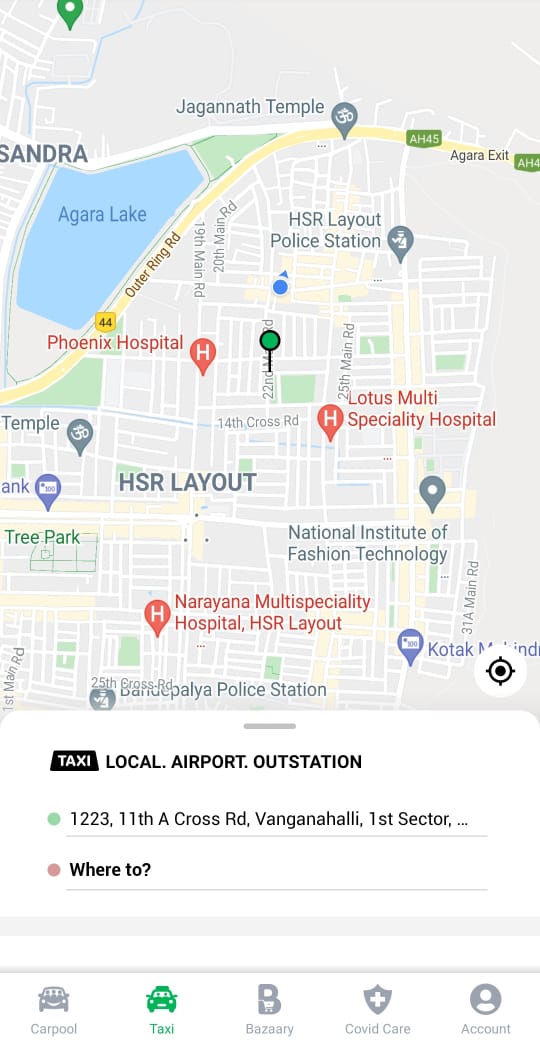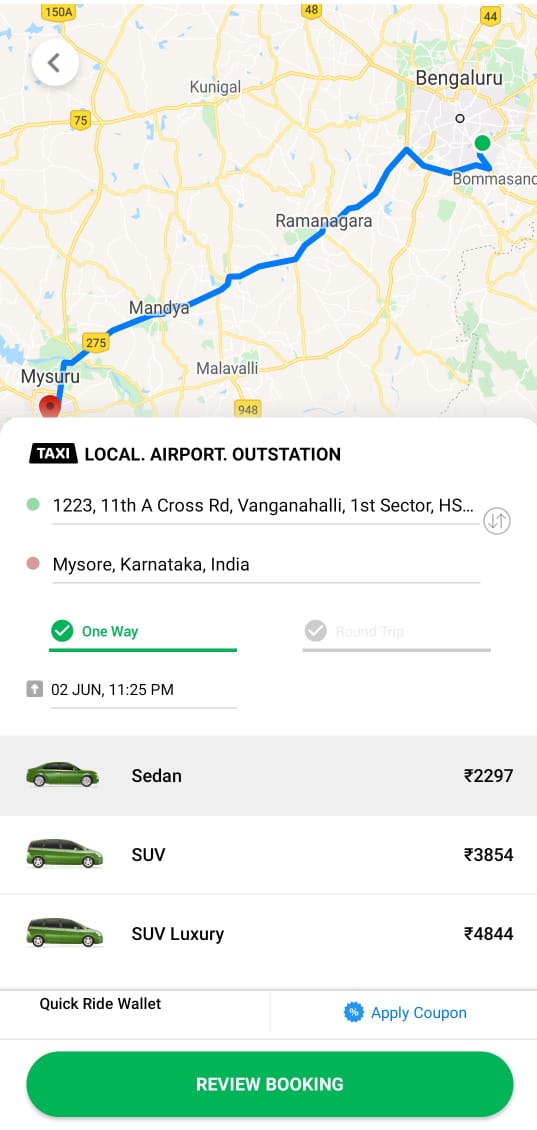 Happy Quick Riding folks !!
Much more articles you would like to read !!