As the city adjusts to the chores and hassles of #NewNormal, majority of Carpooling demands stands un-fulfilled. Not just Bangalureans , every man in this Urban jungle is finding difficulty in finding a safe and secure mode of daily commute to work.
Quick Ride has always crowned the list of top carpooling and bike pooling app in India and has been banishing the obstacles of daily commute since past 5 years. Having realized the titanic amount of un-fulfilled demands in the city, India's largest car pool service has set up a new unit to enter taxi pooling segment, hoping to make the commute much easier and pocket friendly in Bangalore.
What is Taxipool?
An arrangement of sharing rides with riders who are heading to the same direction at pocket friendly rates. Shared Mobility is already having its major impact on cities and suburban areas. Quick Ride has made its place in the hall of fame in the Shared Mobility for the past few years. It not only comforts us from the roaring traffic congestion but also makes our planet a better place to live.
Why TaxiPool with us?
Sharing a road has been a proven ideology to transform mobility across cities. As we step into the new segment of innovation, we always try to think from your shoes to make your mobility more comfortable and memorable.
Door to Door Confirmed Rides
Quick Ride Taxi Pool has an offer that will make anyone drop their jaw. You wished for 100% route match and we have come up with "door to door confirmed rides". You don't need to walk miles to get your ride, or no need to roast your brain cells to make that rikshawaala understand the exact route to your home. All you have to do is be at your doorstep, we are here to make sure you got picked up and dropped at your work place. Literally we are your personal chauffeur by all means. No worries of getting drenched in rain or getting sun tanned in scorching summer waiting for some rikshawaala or our BMTC. (We still love you :))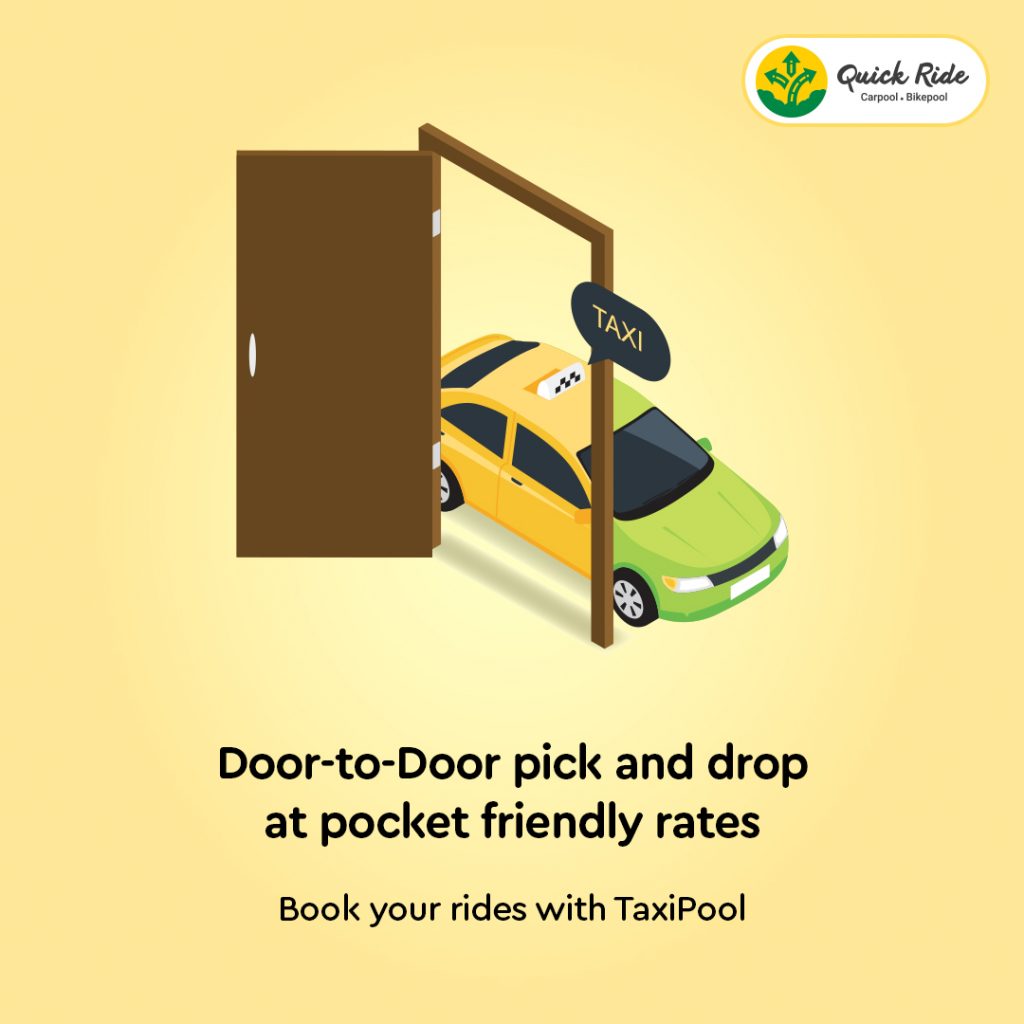 Minimum Deviation with Verified Co- Ride
Taxi Pooling is considered as the potential solution to the mobility dilemma and Quick Ride has always been in the forefront to offer smart and constructive solutions.
"Go an extra mile!!" I meant literally not figuratively. Will you? That's exactly what happens when you try Taxi pooling in your conventional manner. You might have regretted your decision of Taxi pooling when you did travel 10 kms extra just to drop someone else in the same ride.
When we said "Minimum deviation" we meant it, we won't make you waste your time not even for a second. We guarantee minimum deviation from your route. We make sure only selected and verified professionals on your route (margin of 2 km vicinity from your route) will get to share a ride with you .There is no pleasure than sharing a ride with your colleagues where in you can indulge your quality time in some brain warm up or some career advice. What if it comes at a cost you can never imagine? By sharing a ride with Quick Ride TaxiPool, your each dime has found a secret hallway to your bank account.
Save up to 50% on your ride
Quick Ride has been your favorite for years. All we treasure is your smile you have given us for the miles you rode with us. We have always compelled ourselves to run an extra mile (I meant figuratively this time :<) to offer you ride at extremely pocket friendly rates. With TaxiPool you will be able to save 50% of your total commute cost. Like the normal shared taxi, you will not be charged any surge fee. Finding a shared taxi during peak hours is a challenge, but you can find Quick Ride taxi pool rides for your commutes with affordable rates.
You take a ride and let the cents in your pocket take a ride to your piggy bank.
No last minute Cancellations
Once you pre book you ride, your ride will not be getting cancelled at the last minute. We repeat, your dates can cancel on you or even make you stood up!! But we won't, No last minute cancellation like your dates or your conventional cab services.
Digital Payments
With Quick Ride Taxipool, you can schedule and book your ride one hour prior to your ride and can pay digitally leveraging the options such as multiple wallets (Paytm /Amazon pay/Mobikwik / Freecharge), postpaid instruments( Simpl/ Lazypay) and also UPI instruments.
That's enough gyaan about TaxiPool; Let me tell you how it works
Find matching riders after entering "to and from location" in your Quick Ride app
Scroll down till the end of matching riders
Select Taxi Pool
Select Sharing type (2 sharing, 3 sharing, 4 sharing and Exclusive Taxi)
Create and Join
You can join an existing pool or a new one. Once 3 seats are filled, your Taxi Pool will be confirmed. Around 30 mins prior to the first pick up, taxi will be allotted and driver details will be shared with you. Taxi will pick & drop all riders in a given order. You can track the taxi location on the app.
So what are you waiting for? Book your ride with Quick Ride Taxi Pool.
Much more articles you like to read